Articles
There are several ways of activating panic:
Double-click the Panic Button icon on your desktop.
      2.   In the application menu in the system tray select "Panic".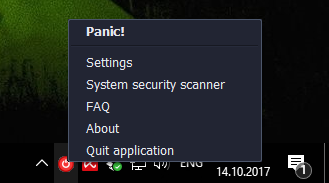 Please be aware that if you have the Camouflage mode turned on, the icon of the application may be different from the icon on the images. 
      3. Use the keyboard shortcut you have selected before if the given option is turned on.
If you selected the double confirmation option, you will be required to confirm it for panic activation in the window that will appear.
     4. The automation activation option in logic bomb mode.