Articles
Upon the initial setup of Panic Button (with the first launch after the installation), while setting up a logic bomb, select the option "Activate logic bomb". The application will suggest you create a shortcut for Panic Button deactivation. Create it, rename it and keep it in a reliable place.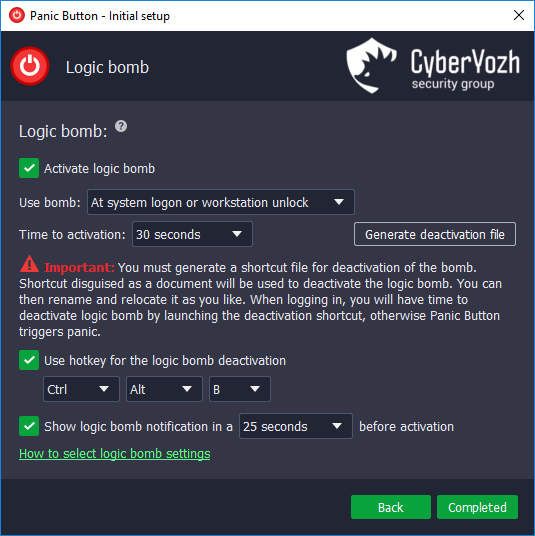 Enter the criteria to be met for triggering the logic bomb: logging in only or the system boot or any unlocking of the system.   
Choose the time for the activation of the logic bomb – the time after Panic Button's launch (given the standard settings, Panic Button triggers immediately after the system's boot) or the time after the exit from the lock screen during which you need to activate the logic bomb. We do not recommend new users set the timer for less than 30 seconds, and with slow-booting computers – for less than 60 seconds. 
You can set the deactivation of the logic bomb by using a keyboard shortcut. To achieve this, select the option "Use keyboard shortcut for logic bomb deactivation" and enter the necessary combination. 
You can enter the time prior the activation of the bomb when you will see the countdown timer on the computer screen. This is an additional reminder of the need to deactivate the logic bomb. 
If you skipped the initial setup, you can always turn on the logic bomb in the application settings. To achieve this, click the Panic Button icon in the system tray and go to the settings. Please be aware that with the Camouflage mode on, the icon in the tray may be changed.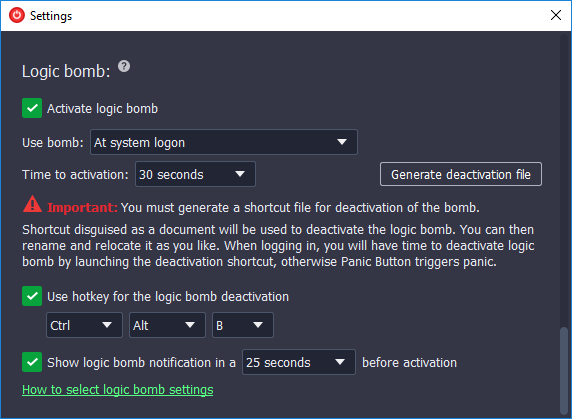 To learn more about how the Panic Button logic bomb works, go here.